Team Trend give back to local Community in LCI acts of Service community day.
May 17, 2019
Friday 26th April  saw Team Trend take part in our acts of service Community Day.
Despite the forecast predicting a wash out, we enjoyed a gloriously sunny afternoon. Our group of volunteers included some new faces from all areas of the business and provided us with the chance to get together with the aim of giving something back to our local community, the surrounding area and the village of Catfield where our headquarters are located.

After engaging with the local Parish Council, we were able to organise a number of activities to keep everyone busy including litter picking around the village, repairing and reinstalling fencing and gates to the local village green and clearing an alleyway so that the local community could walk it safely again.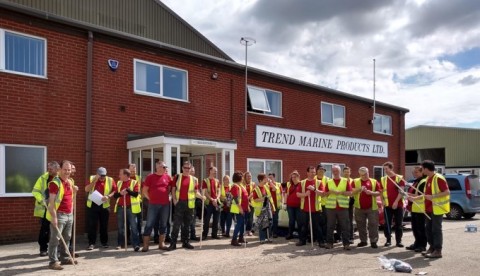 The senior team would like to say a huge thank you to everyone who took part on the day. One of the many highlights was when a village resident came out and gave Glenn a box of chocolates because she said we were "heroes" for everything we'd done. At the end of the day, everyone agreed it had been very rewarding and great to make a difference. It was a fantastic opportunity to meet and mingle with our colleagues from different areas of the business too as teams were made up from different departments and factories from across the site.
We look forward to our next community project which is planned for later this year.