Marine Glazing Testimonials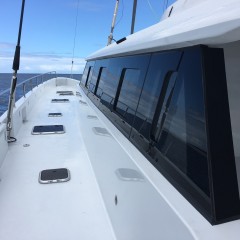 October 14, 2016
After all the trials and testing to get the templating correct prior to the manufacture of windows for the 740S project I thought it may be fitting to share an image of the final product.
The picture was taken this weekend during various sea-trials. The windows look great.
Thank you for all your hard effort to make it right for us.
Alistair Dickson – Two Oceans Marine Manufacturing – South Africa
September 1, 2014
I am pleased to confirm that Trend Marine have been the primary glazing and patio door supplier to Sunseeker International Ltd. for more than 30 years. As Sunseeker International Ltd. have developed and grown, Trend have been on hand to support new designs and provide expertise and technical advice. Their global technical aftersales support can be relied on to assist with any maintenance. Sunseeker International Ltd. are proud to work with British businesses.
Ewen Foster, Director of Design and Naval Architecture, Sunseeker International Limited
August 21, 2014
Trend Marine Products were commissioned by yacht project management consultants Alchemy projects to provide replacement saloon windows for the Frers 60 sailing yacht Namaqua.
Trend Marine Products undertook a detailed laser scan survey of Namaqua and manufactured new made-to-measure toughened safety glass replacement windows.
The new glass windows were installed on board Namaqua without any further input from Alchemy Projects or the yacht's Owner. The Trend Marine installation team acted professionally and independently for a turn-key service.
Alchemy Projects and the Owner of Namaqua are happy to endorse the work and customer service of Trend Marine Products and would recommend them for future refit projects, both sail and power.